Bend Personal Injury Care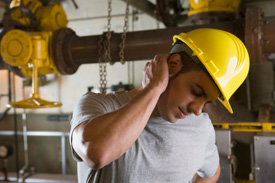 If you've been injured on the job, Bend chiropractor Dr. McCleery and the entire McCleery Chiropractic Health Centre PC team is here for you. With more than 40 years of experience serving central Oregon, we want you to know that we'll always treat you like family.
From day one, we'll take a custom approach to your care to ensure we do all we can for you during your time with us. We don't just want to help you recover from your injury, we want to help you feel better for life. With us, you're never just a number!
Injured On The Job? Here's What You Need To Know
In the state of Oregon, seeking care for a work related injury is easy when you know what to do. We're happy to help our patients in any way we can-after all, your health and wellbeing is our ultimate goal.
If you've been injured on the job, you can see a chiropractor without a referral for 60 days or 18 visits. The 60 day clock starts immediately after you seek care on day one-that means it's helpful if you do your research beforehand and find a chiropractor who you like and can help you get well.
At McCleery Chiropractic Health Centre PC, Bend chiropractor Dr. McCleery has been helping patients overcome work-related injuries for more than 40 years, including:
Back and neck pain
Leg and arm pain
Muscle weakness
Numbness and tingling in your arms or legs
Loss of energy
Sleeplessness
Headaches and migraines
And many more!
Come Join Our Chiropractic Family
Don't let your injury get worse-let our caring, knowledgeable team get you feeling better. With natural chiropractic care, we can help you get your life back on track quickly and effectively. Contact our practice today to book your no-obligation 15-minute consultation with Dr. McCleery today.
Reach out for Job-Related Injury Care in Bend!
Sherie is happy to answer any questions you have and we'll work with your insurance company on your behalf. Call us today. We can't wait to help you!

Personal Injury Chiropractor Bend OR | (541) 389-7103